$40.00
NZD
Category: Gardening
How to grow your own food in the smallest spaces - in pots on balconies, courtyards and windowsills Increasingly people are keen to grow some of their own food, giving them fresh, delicious and healthy ingredients right on their doorstep. Homegrown food also means reduced food miles and packaging, and r eminds us where food comes from and how plants grow.With backyards shrinking and more people living in apartments, we need to find a range of fruit, vegies and herbs that will grow and thrive in small spaces.Whether you love lush leafy greens, tangy citrus, crunchy carrots or vine-ripened tomatoes, there are lots of edible plants that can be grown in pots, hanging baskets and vertical gardens on sunny balconies, verandas, courtyards and windowsills, opening up the wonderful world of homegrown to everyone. This book provides the best information on which edible plants to grow in pots and how to care for them, no matter what your skill level. With loads of glorious photographs for inspiration, it puts 'patio to plate' within reach of everyone, whatever their gardening space. ...Show more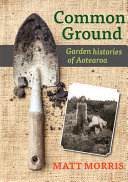 $45.00
NZD
Category: Gardening
Common Ground: Garden histories of Aotearoa takes a loving look at gardens and garden practices in Aotearoa New Zealand over time. While a lot of gardening books focus on the grand plantings of wealthy citizens, Matt Morris explores the historical processes behind 'humble gardens' – those created and ma intained by ordinary people. From the arrival of the earliest Polynesian settlers carrying precious seeds and cuttings, through early settler gardens to 'Dig for Victory' efforts, he traces the collapse and renewal of home gardening culture, through the emergence of community initiatives to the recent concept of food sovereignty. Compost, Maori gardens, the suburban vege patch, the rise of soil toxin levels, the role of native plants and City Beautiful movements … Morris looks at the ways in which cultural meanings have been inscribed in the land through our gardening practices over time. What do our gardens say about us, and where we have been? Matt Morris digs deep in Common Ground. ...Show more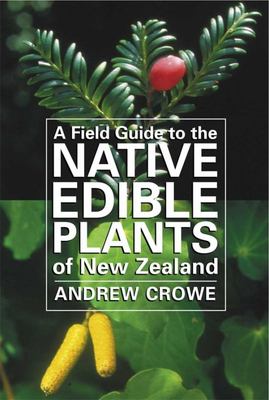 $32.00
NZD
Category: Gardening
A go-to, illustrated field guide of edible native New Zealand plants, including a section on poisonous plants. In this useful and attractive book, over 190 trees, shrubs, herbs, ferns, mushrooms, lichens and seaweeds are described in detail with information on which part is edible and when, how plants have been utilised (particularly by Maori), their nutritional value, and where they can be found. In a separate section, Andrew Crowe also describes important poisonous plants that are native to New Zealand or are likely to be confused with edible plants. Illustrated with line drawings and colour photographs, this informative book will be of interest to trampers, botanists and all who appreciate New Zealand's native flora. ...Show more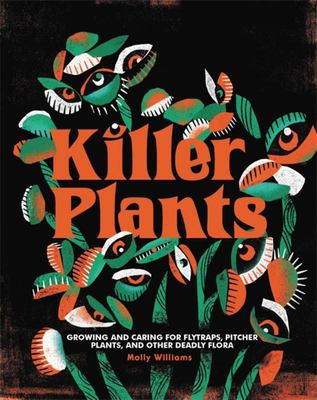 $30.00
NZD
Category: Gardening
Explore the darker side of nature with this accessible guide to choosing, growing, and caring for carnivorous and predatory plants like Venus flytraps, pitcher plants, sundews, and other spooky guys. Carnivorous plants: they're weird, they're gorgeous, and they're the perfect addition to your urban jun gle of pothos, snake plants, and succulents. However, they can also be intimidating to grow and care for. Let Killer Plants be your guide as it walks you through the different types of carnivorous plants and how to keep each variety alive and well. The book answers the many questions you may have surrounding these freaks of nature, such as: Where the heck do I buy a pitcher plant? Can I grow it from a seed? Do I need to feed my carnivorous plant flies, or can it survive on water and light alone? What carnivorous plants are safe to have around pets and kids? I have a gnat problem -- what predatory plant can help? ...Show more
$28.00
NZD
Category: Gardening
In this age of increasing hostility towards chemical control of the food we eat, Companion Planting in New Zealand is the ideal guide to working with nature to produce cabbages that 'squeak with health' and beans that 'snap like a gunshot'. Every tip in this book has worked for somebody - why it worked may be a mystery, but the result of a healthy crop is the greatest reward for a gardener and this book shows how it can be achieved.Entertaining and often anecdotal, Brenda Little's notes are inspired by a wealth of experience and common sense. Companion Planting in New Zealand offers the reader a gardening system relying completely on observation of the natural ecosystem and a respect for the plants and animals living there, e.g. how parsley grows well with chives but away from mint and where a light spray of seaweed solution is useful in combating certain pests. ...Show more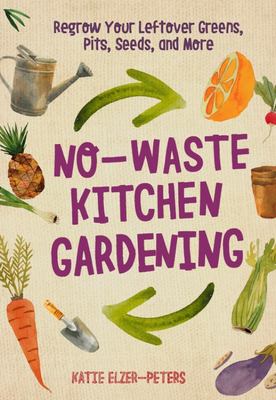 $30.00
NZD
Category: Gardening | Series: No-Waste Gardening Ser.
No-Waste Kitchen Gardening is a fun and colorful exploration of the amazing results you can get by re-growing vegetable cutoffs and scraps into harvestable, edible plants. Stop tossing your carrot stumps, loose cilantro sprigs, lettuce and cabbage stalks, and apple cores in the trash The expert advice in No-Waste Kitchen Gardening, gives you all the instruction and tricks you'll need to grow and re-propagate produce from food waste. You'll be astonished at how much food waste you can re-grow. You'll also find some helpful general information about growing indoors and maintaining your re-grown plants. Two-part photo instructions show first what the root, chunk seed, or leaf should look like when you re-plant it, and second, when to harvest or re-plant it in soil to continue growing. Edibles big and small, quick to grow and those that take a big longer, are included, so you can pick and choose which projects to take on. A few of the many plants profiled include: Green onions Tomatoes Melons Avocadoes Potatoes Carrots Cut back on your food waste, cultivate your own food easily, and maybe even share gardening with a new generation, all with the advice from No-Waste Kitchen Gardening. ...Show more
$50.00
NZD
Category: Gardening
From trees to ground covers, ferns to hebes, an expert guide to the top 100 New Zealand native plants for gardens. Since its first publication, this book has been an indispensable guide for gardeners wishing to use New Zealand plants. Now extensively revised, it features inspirational and practical advi ce on 100 species that are easy to grow and maintain, across a range of climates. It lists each plant's likes and dislikes and gives sage advice for care and maintenance and for combatting pests and problems. It suggests how your soil can be best prepared for maximum growing results and gives creative landscaping tips for combining textures and forms to maximum effect. Engagingly written by the head gardener at Larnach Castle, whose gardens are world-renowned, it deserves a place on every gardener's book shelf. ...Show more
$50.00
NZD
Category: Gardening
Featuring 20 gardens that showcase inspiring solutions to landscaping in limited spaces to maximum effect, this book displays elegant structured gardens, whimsical retreats, verandahs and balconies, potages brimming with edibles and subtropical hideaways. With more than 300 photographs that capture the essence of the gardens, landscaping features and plants used, this is a book that is both inspiring and practical. From a 1960's gem designed by famous architect Sir Miles Warren for his inner city apartment and office to a new rooftop garden and another planted with only edibles, this book shows a diversity of responses to spatial constraints. Many gardens have water features, most don't have lawns and a couple of gardeners have created little havens on the berms outside their homes. Extended captions, pull-out boxes and bullet-point solutions with lots of tips and plant suggestions from each gardener conveys information in an accessible manner. ...Show more
Prick
by Gynelle Leon
$35.00
NZD
Category: Gardening
Prick is a stylish, practical, modern guide to the world of cacti and succulents. "A comprehensive guide" BBC Gardeners' World Magazine Cacti and succulents are the plant of the moment. Beautiful, affordable and - if you know how - easy to care for, they're a short cut to creating brighter, calmer, mo re relaxing spaces in the home and office. In Prick, cactus and succulent expert Gynelle Leon gives you all the knowledge you need to help your plants thrive in a simple, easy-to-understand way. Featuring: A plant gallery, showcasing the many weird and wonderful varieties A chapter of styling ideas to show off your plants A care guide to help your cacti and succulents flourish As an RHS-award-winning plant photographer and founder of London's only shop dedicated to cacti and succulents, Gynelle is the perfect guide on your path to cactus know-how. ...Show more
$90.00
NZD
Category: Gardening
Suzanne Turley is one of New Zealand's most sought-after landscape designers. Across her 30-year career, from her Auckland studio, she has crafted some of the country's most prestigious gardens. Today, Suzanne works with young Italian landscape architect Ermanno Cattaneo; with their combined experience, expertise and enthusiasm, they are pushing the boundaries of contemporary landscape design and architecture in New Zealand.Their work is found the length and breadth of this picturesque country - from the benign Pacific beaches in the north to the volcanic fields of New Zealand's most populous city, alongside coastal cliffs or deep, strong rivers, set against a tapestry of bush or the breathtaking peaks of the Southern Alps. Showcasing 12 of Suzanne Turley Landscapes' stand-out private gardens from around Aotearoa, this book offers insights into both the design concept and planting plan of each project, as well as the approach to the location and client brief. Private Gardens of Aotearoa is both a visual bible of cutting-edge landscape design and a travelogue of a country feted for the magnificence of its natural features. ...Show more
$80.00
NZD
Category: Gardening
The Australian garden was born mid-century, a time of postwar confidence and growing national identity. Gardens became outdoor rooms for recreation and healthy living - removing the barriers between inside and out - and bold designs celebrated native Australian plants. The mid-century modern aesthetic has seen a revival in recent years, with contemporary garden designers reinterpreting the optimism, innovation and independence of that era. The gardens in Living Outside speak to an Australia that draws on the confidence of the last century while pushing the boundaries of experimentation, all to rise to the environmental and social challenges of today. The featured projects embrace their unique surrounding landscapes, from coastal cliffs and expansive grassland to tropical forest and even urban neighbourhoods. They also reflect a return to modernism - not just the look and feel, but also the functionality and values of invention, conservation, wellbeing.These gardens are more than just ornamental backdrops: they provide shade for neighbourhoods, food for pollinating insects, habitat for wildlife, hubs for both social interaction and moments of respite. They are platforms for research into resilient futures, experiments in sustainability and places for families to grow. They have been designed in response to their contexts and exemplify the singular and joyous spaces that can result from a deep appreciation of place.   ...Show more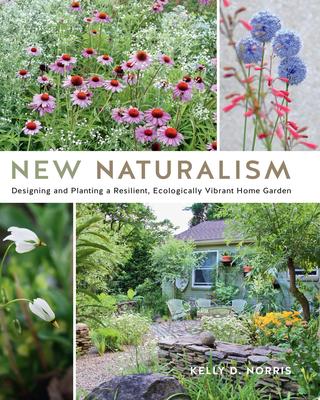 $55.00
NZD
Category: Gardening
In New Naturalism, horticulturist Kelly D. Norris shows readers how to design and plant eco-friendly, naturalistic home gardens that are resilient and sustainable, distilling complex design principals down for the average homeowner.