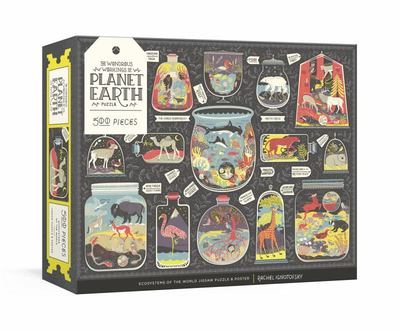 $37.00
NZD
Category: Games & puzzles
From the New York Times bestselling author of Women in Science comes a colorful and informative 500-piece puzzle celebrating planet Earth and its stunning ecosystems--perfect for science lovers, students, gamers, and more.   The uniquely informative and charming art from Rachel Ignotofsky's book The W ondrous Workings of Planet Earth portrays our planet in this family-friendly 500-piece puzzle. As you piece the puzzle together, you'll tour our planet's incredible ecosystems large and small, from reefs, deserts, and rainforests to ponds, backyard gardens, and even a drop of water. A poster that features the puzzle design on the front is enclosed to reference while assembling the 18 x 24" puzzle. ...Show more
$37.00
NZD
Category: Games & puzzles | Series: Women in Science Ser.
The Women in Art Puzzle portrays fifteen female artists in Rachel Ignotofsky's inimitable style, from well-known figures like Frida Kahlo and Georgia O'Keeffe to lesser-known names like nineteenth-century African American sculptor Mary Edmonia Lewis and Hopi-Tewa ceramic artist Nampeyo. Like Rachel's hi t Women in Science Puzzle, this jigsaw will delight a wide range of puzzlers and art lovers looking to get offline and into a soothing groove. ...Show more
$25.00
NZD
Category: Games & puzzles
Play your favorite card games with Romeo and Juliet as King and Queen of Hearts, Lady Macbeth as Ace Villain, and let Adam Simpson's artwork bring Shakespeare's plays to life. Arranged in four suits--with hearts = lovers, clubs = fools, diamonds = heroes and heroines, and spades = villains, plus two jok ers, of course--this artist-illustrated deck of playing cards features 54 of Shakespeare's most famous characters. It includes a booklet with text about each character and their place in literary history. ...Show more
$24.00
NZD
Category: Games & puzzles
The absurdly adorable art from the New York Timesbestselling picture book Stuckturns a game of Go Fish into irresistible fun for kids and parents alike! Do you have any kites? Do you have any Floyds? Any curious whales? This deck of oversized, kid-friendly cards is a surefire way to induce family fun, especially for fans of award-winning children's book author and illustrator Oliver Jeffers. A hefty cardstock box holds this deck of 52 playing cards (plus two instruction cards)--each of which is sized perfectly for little hands at 3-1/2" x 5" apiece. With a flip-top lid and Velcro closure, the package is easily portable and tear-openable for any and every game-playing moment. In addition to playing Go Fish, players will also get the instructions for two bonus games- Concentration (a memory game) and Snap (a kid-friendly card game that's similar to Slapjack). ...Show more
$30.00
NZD
Category: Games & puzzles
Piece together the world of Shakespeare in this art jigsaw puzzle depicting the London of his day. Spot a huge cast of contemporary extras as A Midsummer Night's Dream is rehearsed at the Globe and fellow actors wander the streets, along with local characters who may well have provided the Bard with ins piration. From lovers ascending ladders and bears being baited to tavern brawls and summer fairs, there is something to delight in every detail. ...Show more
$30.00
NZD
Category: Games & puzzles
Piece together the world of Jane Austen in this exciting new 1000 piece jigsaw, inspired by the life and works of the prolific author. Featuring a wide cast of Jane Austen's contemporaries and characters, take a tour of Austen's world from the rolling hills of Derbyshire, via Hampshire and Lyme Regis, t o the golden stone of the Bath skyline as your build this puzzle. All of your favorites are hiding in this busy and engaging scene, waiting to be found by you! From Mr Darcy walking the grounds of Pemberley, to Anne Eliot enjoying a seaside escape, discover hidden gems as you make this puzzle and enjoy the final scene. The perfect challenge for Janeites, or anyone who loves a good jigsaw, this puzzle full of whispered intrigues, harmonious weddings and proposals is sure to delight. The World of Jane Austen is the second in Laurence King's new series of jigsaw puzzles, following The World of Shakespeare, and includes a pull-out poster full of fun Austen facts   ...Show more
$40.00
NZD
Category: Games & puzzles
Take a step forward on your spiritual journey with this gorgeously illustrated celebration of deities, folklore, and fairy tales from all over the world. The path to enlightenment is unique for each of us, but many of the lessons we learn are shared stories passed among cultures and generations. With r ich, vibrant art and a keen understanding of traditional tarot archetypes, illustrator Yoshi Yoshitani infuses Tarot of the Divine with worldly insight and an intriguing selection of fables and folktales from cultures across the globe. The Major Arcana cards are brought to life with characters from beloved stories who embody the fool's journey, from the Danish fable of the naive Little Mermaid (a character who represents The Fool) to China's Beauty and the Beast (The Lovers) to the Maori legend of Hinemoa and Tutanekai (The World). The archetypes of the Minor Arcana--focused on suits of cups, coins, swords, and wands--are made richer with diverse cultural fables, ancient mythologies, and spiritual legends like the Crane Wife (Japan), Aladdin (Persia), Jack and the Beanstalk (England), Fenrir (Norway), Oedipus (Greece), the Pandavas (India), and dozens more.  As you acquaint yourself with your cards, a 44-page guidebook illuminates how these fables support traditional tarot imagery and themes. With fables from more than forty countries, this spiritual journey is a worldly experience like no other. ...Show more
$23.00
NZD
Category: Games & puzzles
Match each bone to each corresponding animal in this fun interactive game. Using vibrant illustrations, the images encourage youngsters to guess animals based on visual clues.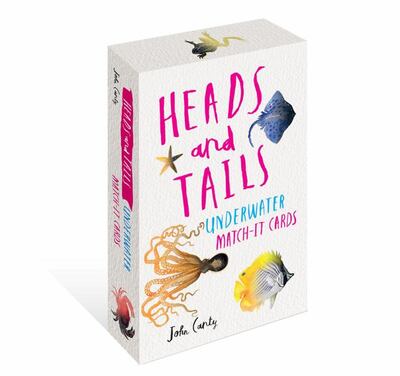 $20.00
NZD
Category: Games & puzzles
Practice their memory skills while playing a fun interactive game. Match each tail to each corresponding head. Hours of fun and engagement for your children.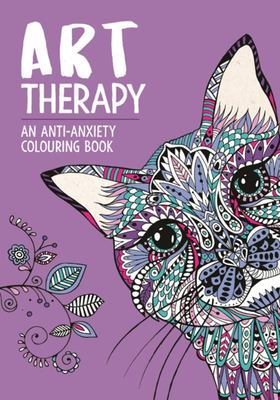 Art Therapy - An Anti-Anxiety Colouring Book
by Richard Merritt; Lizzie Preston; Sam Loman; Laura-Kate Chapman; Hannah Davies; Cindy Wilde; Chellie Carroll
$23.00
NZD
Category: Games & puzzles | Series: Art Therapy Colouring Ser.
De-stress and relax with this beautiful and therapeutic colouring and doodle book. Through focusing your mind on colouring intricate artworks and completing gorgeous illustrations, you will leave behind the worries of your day. Whether you're an amateur artist or advanced, everyone can create something exquisite as no drawing skills are required. ...Show more
$35.00
NZD
Category: Games & puzzles
Have you got what it takes to assemble all 299 cats into a perfect puzzle? In this cunning cluster puzzle, there are no regular jigsaw shapes: each piece takes the outline of the cat itself. And there are 299 of them! Plus a dog. See if you can find it!
$35.00
NZD
Category: Games & puzzles
1000 piece puzzle featuring Richard Baker's paintings of vintage paperback books.Piece together your own colorful collection of vintage paperback book covers! Classic Paperbacks puzzle features artist Richard Baker's incredible paintings of beloved real books, including works by Emily Dickinson, Richard Wright, Sandra Cisneros, and Susan Sontag, among other literary luminaries. Each "book portrait" captures the signs of wear that all bibliophiles can appreciate from their own most most-loved reads. The perfect gift for book lovers and collectors everywhere.9 x 11 x 2.5 in box25 x 20 in puzzle1000 piecesEnclosure with puzzle image ...Show more